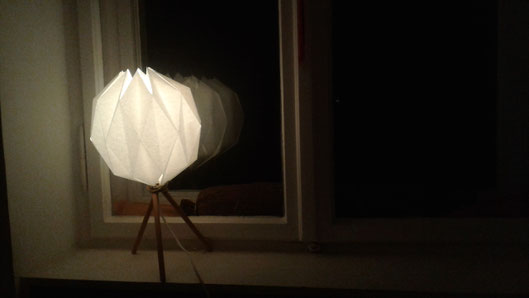 Für alle Kurzentschlossenen,
die noch nach einem individuellen Weihnachtsgeschenk suchen, biete ich einen Lampenbauworkshop an. Bitte bringt Fingerspitzengefühl und Geduld mit.
Ab drei Personen kommt ein Kurs zustande.
Gegen einen Spendenbeitrag zw. 15-20 € (Materialkosten) könnt ihr teilnehemen.
Wir treffen uns in der Kinderabteilung im Mehrzweckraum im UG der Philipp-Schaeffer-Bibliothek.
Ich freue mich auf euch!
Dear all,
if you're still looking for special christmas present for you loved ones- I will give a workshop how to build an Origami-Lamp. Please bring patience fingertippyfeeling :).
With min. 3 persons, I'll run a workshop.
With a donation btw. 15-20 € (material costs) you can help Paper Your World do survive.
We meet in the children's section of the Phlipp-Schaeffer Library (basement floor) inthe multipurpose room (ask the librarien).
I'm looking forward for a great crafting session!