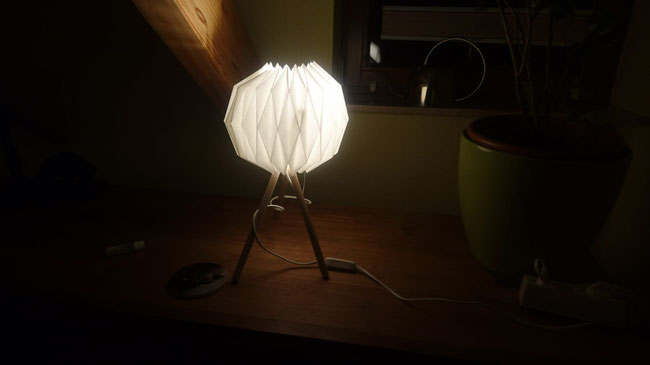 (for english please scroll down)
Hallo liebe Origami-Fans!
Es ist dunkel draußen. Erleuchtet euer Heim indem ihr euch eure eigene fancy Origami-Steh-Lampe baut (Maße in cm 30 hoch x 23 Durchmesser).
Paper Your World bietet einmal im Monat Origami-Kurse zu verschiedenen Themen an.

Bitte bringt Zeitungen, einen 60l-Müllbeutel & einen größeren Beutel für den Transport der Lampe mit.
Kursdauer:              3 hs
 Kursort:                   Philipp-Schaeffer-Bibliothek, Brunnenstraße 181 Berlin-Mitte
                                   ("Eventraum" im UG- Kinderabteilung)
 Kursgebühr:           20-25 €/Teilnehmer, Vorkasse oder via PayPal
 Mind. Teilnehmer:  3
 Max. Teilnehmer:   6
Bitte meldet euch bitte unter paperyourworld@gmx.de bis zum 23.01.'18 an.
Keep yourfolding fingers ready!
Dear Origami-Fans!
most of the time, it's dark right now in Berlin. Illuminate your home and craft your very own Origami standard lamp (dimensions in cm 30 hight/23 diameter).
Once in a month Paper Your World provides you with different Origami-Workshops.

Please bring some newspapers, a 60l trash bag, a big bag to transport the lamp.
Duration:               appr.      3 h
Location:                Philipp-Schaeffer-Bibliothek, Brunnenstraße 181
                                (multifunctional room in the basement floor, children's section)
Workshopfee:      20-25 €/participant, pay via PayPal orin advance
Min. participants: 3
Max.participants:   6
please register via paperyourowlrd@gmx.de till 01/23/18
I'm looking forward to you & keep your folding fingers ready!